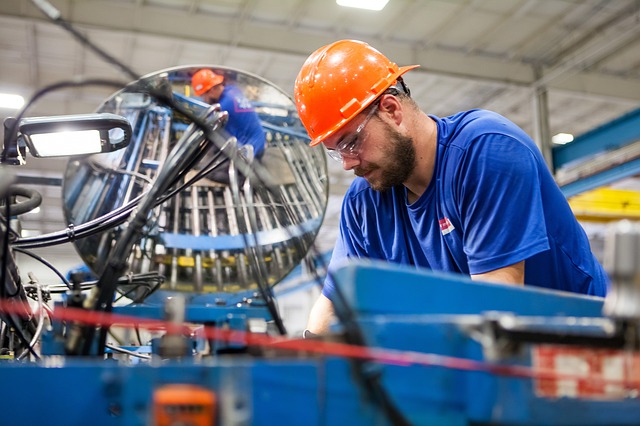 The UK is currently the ninth largest manufacturing nation in the world, with manufacturing accounting for 11% of the country's overall GDP.
Over recent years, many manufacturing companies have embraced new technology and 'lean' processes to reduce waste and improve efficiency, helping to increase their overall productivity.
But despite the sector's many success stories, there are also a significant number of companies within the industry that are still struggling with financial problems.
With over 60% of all businesses failing within the first five years, if you feel that your manufacturing business is struggling to pay the money it owes, it's wise to seek help from an expert sooner rather than later.
Over the years, our team here at Irwin Insolvency have helped many failing manufacturing companies to turn their business around by improving cash flow and profitability.
If a turnaround is not feasible though, one of our insolvency practitioners can help you to fulfil your legal obligations to your creditors with a positive insolvency solution.
Challenges facing the manufacturing industry
If your manufacturing company can't pay its bills, then you are not alone.
Today's unstable economy and global trade tensions are causing uncertainty and financial instability for many manufacturing businesses in the UK.
Just some of the challenges that the UK's manufacturing sector is facing include:
An uncertain economy – caused by an unstable currency, global trade tensions, and the uncertainty surrounding Brexit.
Supply chain instability – delays and interruptions to the supply chain can cause significant financial problems for manufacturing companies. Brexit also promises to bring further supply chain instability for many businesses.
Investment into new technology required to remain competitive – the move towards 'lean' manufacturing is a more efficient way of working, but often requires heavy investment into new machinery and technology.
Competition from emerging markets – many manufacturing businesses here in the UK find it difficult to keep prices competitive when facing competition from markets in the Middle East where labour costs are lower.
Skills shortages – the manufacturing sector is facing its greatest skills shortage in 30 years, with over 81% of manufacturers reporting difficulties finding skilled staff, especially amongst the younger generations.
The UK's late payment culture – being paid late by customers can put you in a precarious position with your cashflow. This can result in a knock-on effect, preventing you from paying your creditors on time and causing you to fall into debt.
Tips for avoiding insolvency in the manufacturing industry
Whilst it's impossible to eliminate the risk of insolvency for your manufacturing business, there are several measures and precautions you can take to protect it from financial difficulty.
Here are our top tips for reducing your manufacturing business' risk of insolvency:
Carry out a risk assessment of new customers and suppliers.
Develop good relations with creditors.
Avoid overtrading.
Don't hold too much stock.
Create an efficient credit control process.
Invoice customers on time.
Sell unused assets.
Retaining healthy cashflow is key to running a financially stable business. It's important to do everything you can to monitor your business' ongoing performance to look out for warning signs of potential problems on the horizon to protect your cashflow.
Expert manufacturing insolvency advice
If your manufacturing company is facing insolvency, speaking to an insolvency expert who specialises in helping businesses in the manufacturing and engineering industries can ensure that you receive the most suitable advice and guidance to achieve the best possible outcome.
Here at Irwin Insolvency we have many years of experience helping many different types of business within the manufacturing industry, including those that produce:
Food
Clothing and textiles
Electrical equipment
Metal
Wood and paper
Chemicals, plastics and rubber
Petroleum
Manufacturing insolvency solutions
If your manufacturing business is struggling to pay the money it owes, then the earlier you seek help and advice from an expert the better your business' prospects are.
Failing to seek advice early enough can compromise your legal position.
Where possible, our priority is always to help you to achieve a successful turnaround by improving cash flow and profits.
If it is too late to turn your business around, you can still achieve a positive outcome using suitable insolvency procedures.
The action we advise you to take, will depend on your business' individual situation and could involve one or more of the following:
Why choose Irwin Insolvency?
Here at Irwin Insolvency, we have been a friendly, understanding and reassuring point of contact for many struggling businesses over the last 25 years.
During this time, we have helped countless manufacturing companies of all shapes and sizes through insolvency.
We have built our outstanding reputation on the high quality of service that we provide, always striving to offer:
A friendly and compassionate approach.
Unambiguous advice.
Speedy, positive and effective solutions.
If your manufacturing business is struggling to pay its debts, get in touch with our team today to discuss our professional insolvency solutions by giving us a call for free on 0800 2545122.
Get in Touch
With over 25 years of experience, helping people just like you, we are committed to providing you with all the help and advice you need during these challenging times. Simply give us a call, drop us an email or fill in the form to find out how we can help you.
Our Office
Irwin & Company,
Station House,
Midland Drive,
Sutton Coldfield,
West Midlands B72 1TU
Call us
0800 254 5122
Email us
[javascript protected email address]
Fill in the form below and a member of our expert team will be in touch to discuss how we can help you.
"*" indicates required fields