Business growth is critical for any company that's looking to expand its reach, secure its profits, and build for the future. But developing healthy and continuous growth for a business isn't always easy in a highly competitive economy.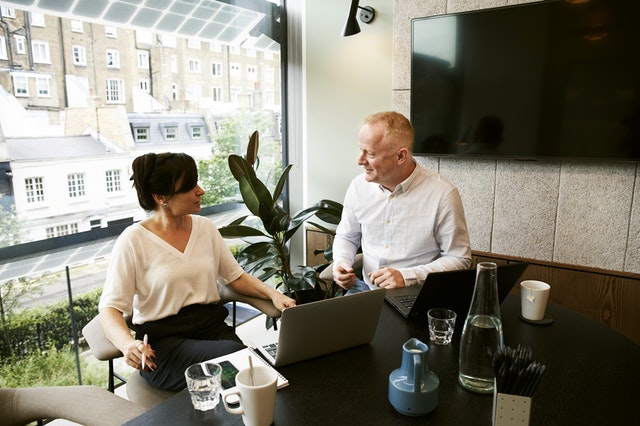 It's made more difficult by economic downturns and political uncertainties. While there are basic blanket growth principles that businesses can try to follow, it's much more challenging to create sustainable growth that works for an individual company, based on their values and their products or services.
The means to expand business are different for every company, but one thing that any company director can do is to contact an independent consultant for tailor-made advice and expert analysis.
What Do We Mean by 'Business Growth'?
Irwin Insolvency has helped countless businesses across a wide range of industries to develop business growth. When we talk about 'business growth' it's important to determine what is meant by the term, because we know that it can have different connotations for different companies, different markets, and different industries.
Before a business can begin to grow successfully, it first needs to determine what growth means to them and in what ways they wish to grow as a business. Business growth will be different for small, medium and large businesses, and it will vary depending on the sector a company operates in, and even the location in which they are based.
Business growth means expansion. Determining how and where a company can best expand is the best way to begin implementing changes that can drive long-term growth and success.
For businesses, growth can often mean expanding in the following ways:
Increasing profits
Increasing turnover
Increasing sales
Increasing the number of employees
Increasing the number of outlets, stores or offices
Gaining a larger market share
Entering new markets
Developing new avenues for revenue
Developing sustainability or developing company values as a whole
In terms of business growth, it's imperative that a company has a long-term vision and a long-term plan that can be put into place. Importantly, that plan needs to be tracked and analysed for it to succeed. A business growth consultant can help to provide solutions to keep progress and growth continuous, as well as sustainable.
Regardless of how a business desires to expand and grow, they require revenue to do so. In this respect, there are three primary steps that a business of any size can take towards expansion. It's important to remember though, that there's no guaranteed formula for business growth, and a business may need to attempt multiple steps towards growth at the same time to succeed.
  There are three main steps to growing a business:
Finding new customers
Increasing the unit of purchase
Increasing the frequency of purchase
For small businesses or sole traders, medium-sized enterprises, or indeed for large corporations, these three basic steps will lead to business growth by securing revenue and increasing profits. Those profits can then be used by a business to fuel more growth or further development.
Here's more information on how these steps can be implemented to secure business growth.
Finding New Customers
Most people believe that in order to grow a business, you have to prospect, cold call, advertise, do direct mail, or use the Internet to find new customers. While finding new customers may be one way of growing your business, it is also the most expensive and most risky way to go.
There is no guarantee that the thousands of pounds spent on placing advertisements are going to bring new business. Finding new customers is a guaranteed way to increase sales and revenue, however and, while risky, it can be one of the most effective methods of growth, particularly if customers are retained for the future.
Increasing the Unit of Purchase
What this means is that you want to make your new customers purchase more from you at each and every sale.
Increasing the unit of purchase will keep growth sustainable as long as your customers continue to have a need for more of the same product. This can be achieved through the introduction of similar products or by implementing loyalty schemes or deals that encourage customers to buy more products in one go.
Increasing the Frequency of Purchase
The other way to grow your business is by increasing the frequency of sale. In other words, if your typical customer buys from you once a month, for example, you could offer them a reason to buy twice a month.
Convincing a customer that they could use more of your product is a great way to increase sales. Equally, you can introduce new products aimed at the same customers to give them a reason to purchase from your business more frequently.
These last two methods work for most businesses, as they have very little risk associated with them and can very easily have the same growth effect as finding new customers, but without the inherent risk associated with cold prospecting. Another key advantage is that your customers already know you and trust you.
Retained or existing customers can be a huge source of revenue for businesses. For several important reasons, this ensures that it's a less risky avenue to take than finding new customers. Existing customers are already loyal to the company, they trust the company, they know its values, and they appreciate the products or services. If you can get your loyal customers to keep buying and to keep buying more, then you can experience much greater growth.
Why Pay for Business Growth Advice?
Growing a business does not have to be expensive, risky, or even time-consuming by following these strategies. However, it is likely that you may wonder whether it's worth investing money and resources into business growth advice.
The answer is yes.
Business growth is unpredictable, especially in uncertain times. It's also expensive, and failure to meet the targets laid down can result in costly expenditures that could be avoided if expert, independent advice is sought out in the first instance.
As we already mentioned, advertising costs to attract new customers can be high. It's a risky strategy, but one that can pay off given the right information and depth of experience. To make it work well and to secure your expenditure and make a return more likely, it's worth investing extra money in business growth advice.
A business growth advisor acts independently. While companies can seek their own advice from within, this information may not be impartial. A business growth advisor is able to think outside the existing constraints of the business and suggest new ideas that could lead to success.
This independent advice is incredibly important if a business is looking to expand and grow into new markets. Independent, impartial advice can highlight new information on markets that the existing business wouldn't have knowledge of. Business growth advice in these situations is therefore invaluable, as it offers something the business could never create or be aware of on their own accord.
Overall, spending money on independent business growth advice is nothing short of an investment that will maximise returns and provide long-term sustainability.
What Is Irwin Insolvency's Process?
Irwin Insolvency offers expert consultancy on business growth. Our process is based on years of collective experience across a wide range of industries. The process starts with a simple phone call or email to our professional team, who will respond as quickly as they can.
Our team will provide an initial consultation to discuss your business and your plans for growth. We'll ask questions and gather as much information and statistics as you are happy to offer. The more we know, the more detailed our advice can be.
We offer a personalised service, so our team will be in contact frequently throughout the process. We'll allocate a one-to-one consultant for an easy point of contact, but they have the support of the whole team behind them, too.
We sit down with you and your business partners or fellow directors, and present to you a well-worked and thorough plan that will make creative use of the solutions and options we see as the best fit to enable business growth for your company.
We offer practical solutions and analysis, and we'll make sure that you understand why we suggest the solutions that we do. We can provide recommendations, reports and case studies to demonstrate that our advice will be the best option for your business.
After that, we'll continue working with you and your team to ensure that the plan can be put into action, and to recommend further solutions if things change or new opportunities emerge. We understand that business is flexible, so we're flexible too.
How Is Advice Tailored to Your Business?
Irwin Insolvency offers tailor-made advice to every business that requests a consultancy. Our personal service and approach to business allow us to get to know your company and to present you with the best possible advice.
We make sure that our advice is based on your company ethos and doesn't compromise your company values. We have experience working with businesses both small and large, and we tailor the advice we give to ensure that it's suitable for the size of your business, while offering realistic goals that can be attained within a specific time frame.
We analyse the markets your business is in and where it wishes to be, before providing solutions that can be implemented given your existing structures and revenues. We'll also offer suggestions for you to track your growth and development effectively.
Importantly, our team is willing to go the extra mile to ensure that we have all the necessary facts and information to tailor-make our advice to best suit your business.
We don't promise you the world, but we do promise that you'll see results.
Contact Irwin Insolvency Today
Irwin Insolvency has experience working with and advising companies across a wide range of industries in the United Kingdom. Our expert team is able to offer valuable insights, resources and, most importantly of all, the experience that can help your business to grow.
We offer proven consulting services that can help your business to realise its full potential, along with advice on restructuring, reports on solvency, and much more. As licensed insolvency practitioners, we also deal with corporate recovery and liquidation.
Contact Irwin Insolvency today to find out how we can help to grow your business.
Get in Touch
With over 25 years of experience, helping people just like you, we are committed to providing you with all the help and advice you need during these challenging times. Simply give us a call, drop us an email or fill in the form to find out how we can help you.
Our Office
Irwin & Company,
Station House,
Midland Drive,
Sutton Coldfield,
West Midlands B72 1TU
Call us
0800 254 5122
Email us
[javascript protected email address]
Fill in the form below and a member of our expert team will be in touch to discuss how we can help you.
"*" indicates required fields